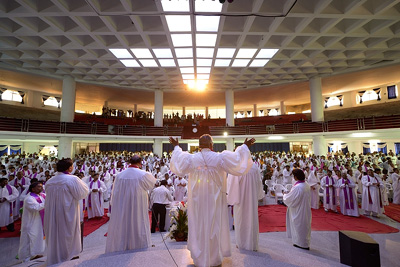 In 1966 Manna started with 2 pastors, Since then the Lord has blessed abundantly. As of today 1450 congregations have been established.. What began with only a handful of people grew to a total membership of over 150,000 people. Praise the name of the Lord! Many of the churches have between 75-100 people, a few are in the 500-600 range, few are in the 1,000-3,000 range and one has over 3,000 attending regularly.
In 1978, God spoke to Ernest to start a new work in the city of Hyderabad, the capital city of the state of Andhra Pradesh. Here a new center was to be established that would train men and women to reach out to all states of India. Today Manna has churches in 17 states of India and 2 union territory of India.
The Lord spoke to the leadership of the ministry again in 1997, and what was thought to be only a vision for India, was enlarged. The Lord said that if Manna International would bless those beyond its borders, then the Lord would bless within its borders. Since then affiliates have come up in Myanmar and South Africa.