For over a century the Church in India has remained a faithful shining beacon of witness to the compassionate love of God.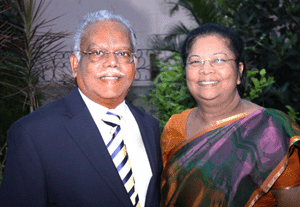 Over the past 50 years that beacon has become even brighter through the work and influence of Manna group of Ministries, founded by Ernest and Rachel Komanapalli.
Christianity came to the south-central state of Andhra Pradesh through the Ministry of various European and American missionaries. Two Indian men whose lives were changed during this move of God, were Rev. K. S. Joseph and Rev. P. L. Paramjyoti. These two pioneers of the Pentecostal movement in the state of Andhra Pradesh suffered greatly for their devotion to the Lord and the Pentecostal truth. They were ostracized, beaten and left for dead. They were near starvation numerous times, yet they remained faithful and left a great legacy.
The second son of Rev. K. S. Joseph and the eldest daughter of Rev. P. L. Paramjyoti, Ernest and Rachel would be united in marriage in 1963 after a prophetic promise that God would bring a great ministry out of their union.
Previous to their marriage Ernest had completed Bible College at Southern Asia Bible College in Bangalore, India. After graduation, he traveled through many villages and towns preaching the gospel of Jesus Christ. In 1961 through a series of miraculous events, Ernest attended the World Pentecostal Conference in Jerusalem. There he made contacts, which would eventually take him to the United States of America where he completed his Master's Degree.
Rachel, who was studying English Literature at the time of her marriage, completed her College studies at Andhra Christian College in Guntur, India and joined her husband in the USA in 1964. Ernest obtained a position as a special education Teacher, and later became the Director of a Community School in the Providence Public School system in Rhode Island. Rachel continued studying her Master's Degree in education. Upon completion of her degree she was employed as a Teacher in the early Childhood Center of Barrington College.
When the first paycheck came, Ernest and Rachel knelt down in their tiny apartment and dedicated it to the Lord. They promised Him to support pastors in India with their tithes. From that small seed Manna group of Ministries was born.
Manna group of Ministries was began with the support of only 2 pastors. The headquarters was located in Amalapuram in the East Godavari District of Andhra Pradesh State. As Ernest and Rachel made contacts with various churches and organizations. They were able to help even more pastors. In 1967 a literature arm of the ministry was started and the monthly magazine "Manna" in the Telugu language was released. That year 4 literature centers were opened. The goal was to make available fine Christian literature in areas where it was impossible to obtain good devotional reading.
"TO PREACH GOOD NEWS TO THE POOR"
Given this small beginning, Ernest and Rachel were content and had no intention of expanding their outreach further. However, the Churches started to grow and more Pastors were added to the ministry. Churches were planted in neighboring districts and God was blessing in a mighty way. In 1971 the ministry had come to a point where a clear-cut strategy of church planting and direction was necessary. That same year the Lord spoke to Ernest to return to his native land of India. In obedience to God, and with help from the General Council of the Christian Church of North America, Ernest and Rachel returned to India to work full time in the field.
Ernest became Senior Pastor of Manna Full Gospel Church in Amalapuram, which at the time had 30 members. Today the first church their ministry has been blessed of the Lord with over 3,000 people worshipping there every Sunday morning.
To plant churches and to reach into new areas, Pastors and Evangelists were needed. In order to train new men and women to serve God, Manna Bible Institute was started in 1972, offering a 2-year basic ministry education in the Telugu Language. Manna Bible College was started in 1981 to address the situation of multilingual India. It offers solid academic training (Bachelor's degree in Theology), as well as spiritual and practical training in the English language.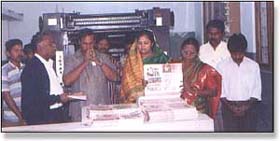 In addition to the training institutes, a Radio ministry began in 1972. Manna Messages, originally a weekly program, has grown today into be five programs every week. Four of the programmes are in the Telugu language; one for youth, one for women, a Bible study, and an evangelistic outreach. A weekly programme is also aired in Oriya Language. In 1997 a Television program "Manna for Today" was launched over satellite television. To bolster the media evangelism, the publications department was created to publish books and other materials needed to reach the nation of India for Jesus Christ.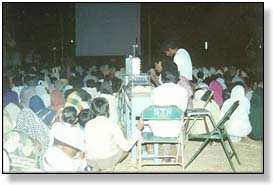 Since film is an effective and popular method to reach the masses, a film ministry was started. An outstanding movie on the life of Jesus as well as other Christian films, are shown with great results.
These evangelistic tools were combined with social work and developmental work to move in one concerted direction. To bring the gospel of Jesus Christ in word and deed to the nation of India.
By the year 1975, The ministry had spread to all the districts of the state of Andhra Pradesh and 250 churches had been established for the glory of God. In the later part of 1975, the doors opened to start works in the neighboring state of Orissa. Soon more doors started opening in other states and today Manna group of Ministries has churches established in 9 states in the Nation of India.
In 1978, God spoke to Ernest to start a new work in the city of Hyderabad, the capital city of the state of Andhra Pradesh. Here a new center was to be established that would train men and women to reach out to all states of India. Along with the church and Bible College, a Children home for the deaf and dumb was founded. Another arm of Manna group of Ministries, Rock Church International, was born.
In the 1980's, churches were established in the states of Madhya Pradesh, Manipur , Karnataka, Maharashtra and the Union Territory of Andaman Islands. Additional churches were raised up in Tamilnadu, Assam and Mizoram in the 1990's.
The Lord spoke to the leadership of the ministry again in 1997, and what was thought to be only a vision for India, was enlarged. The Lord said that if Manna group of Ministries would bless those beyond its borders, then the Lord would bless within its borders. Under the leading of the Lord, Ernest traveled Bhutan, Combodia and Vietnam. To the Ministry supports to pastors in the Nation of Vietnam.
What started in 1966 with 2 pastors, the Lord has blessed abundantly. Today there are 1450 Congregations in the Ministry. Over 950 churches have been established, many of them are having small branches of their own. What began with only a handful of people, has grown to a total membership of over 125,000 people. Praise the name of the Lord! Many of the churches have between 75-100 people, a few are in the 500-600 range, one is in the 1,000-1,500 range and one has over 2,000 attending regularly.
The strategy of Manna group of Ministries, while using the media and social work, has been primarily focussed upon the local church Pastor. Manna group of Ministries will send a Pastor into a village with a basic support of $50 per month, to help with his food, rent and travelling. When a church has 30 baptised members, then the Ministry starts looking for property in the area. Once the Ministry has purchased property, construction begins on a small church and parsonage for the pastor. The building is usually 60ft x 20 ft. The ministry asks that the local church raise 40% of the construction expenses, with the remaining 60% borne by the ministry.
Manna group of Ministries has adopted an organisational system that recognizes the 5-fold ministry to the Body. The system of authority has been instituted at all levels providing for proper checks and balances. The highest authority is vested in the Executive Committee of the ministry, which consists of the Chairman, President, Vice- President, Secretary-Treasurer, regional vice presidents and Members. The various levels that have been developed range from grass roots all the way to the executive. The Local church with its elders comes under the authority of the Pastor. The Pastor is accountable to area elders (who are also pastors). Over each district is an Elder. The district elder is accountable to the Regional vice President who is accountable to the Executive. The leadership of Manna Ministry is not only encourages but requires constant interaction between all churches and Pastors.
"TO THE LEAST OF THESE …"
Ernest and Rachel always shared the conviction in their hearts that the Gospel of Jesus Christ is not just in word but also in deed. This same conviction has been imparted to the Pastors and leadership of Manna group of Ministries. The "cup of cold water" to the thirsty is as important as sharing salvation through Jesus Christ. The two need not be mutually exclusive. Ernest seen his own older sister die of malnutrition, and Rachel had seen her father help many suffering in poverty. This changed their outlook forever.
In 1968, Rachel went to visit a woman dying of cancer who asked that she take care of her children upon her death. Rachel promised, never suspecting that the woman would die 2 days later. She took the two children into her home. It did not take long for the word to spread. Within 3 weeks, 25 orphan children were staying in the Komanapalli home.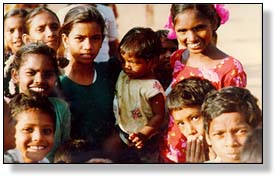 Miriam Children's Home, a ministry of Manna group of Ministries was born. Today over 40 orphanages are operated by the ministry; feeding, educating, giving shelter and clothing over 4,000 children.
Since that small beginning, over ten thousand children have gone through these homes and on to being productive, successful and responsible citizens of India. Rachel, in addition to raising her 2 children and 3 foster children has become a true mother in Israel.
The "graduates" of the homes has found employment in many fields: Professional and Non professional, Industrial and service, Government and Private sector. Many young men have been called into the ministry and currently pastor churches. All thank God for the chance they were given to make it in life through the Ministry of Miriam Children's Home.
Taking care of so many children brought many new concerns and responsibilities. Not only did the children require food and shelter, but what about their education? What about their future and job prospects? What about marriage?
In 1972, Miriam primary school was started in Amalapuram. This was to be a school for primary education. The idea was to teach the younger children and then send them to the government schools for the higher grades. However, it was determined that the government was unable to provide a satisfactory education for the children. As India is a developing country, funds are limited to meet the needs of nine hundred million people. It was decided to pursue a cradle to adult education policy for the orphanage children, as well as to provide quality education for the poor people of society and the Christian minority.
Soon the primary school at Amalapuram was upgraded to a high school. Once that was done schools were opened in the different areas where orphanages had been founded. As of today, 10 schools are being operated by Manna group of Ministries. In India, the system of education offers students the choice of either technical education or higher academic education following 10th grade. To offer training, and provide the children with an opportunity to learn a trade, 2 Industrial students have gone on to have successful careers up on completion of their studies.
The opportunity for college education is small in India, and even smaller for the Christian minority and the poor of all backgrounds. To higher education, Paramjyoti Junior College and Miriam College have been established. Both are fully government university accredited institutions. Miriam College offers 12 major areas of study in the Bachelor Degree program. Today hundreds of students experience the joy of learning and have an opportunity for a successful future.
"RECOVERY OF SIGHT TO THE BLIND"
In 1971, Ernest Komanapalli became ill with Cholera. In the town of Amalapuram medical facilities were terrible so Earnest's brother in law, who was a doctor, was brought in to treat him. During this ordeal God spoke to Ernest that he has people who have no one to treat them.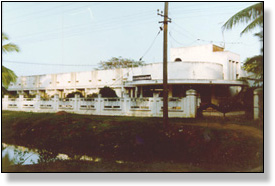 With the burden laid upon his heart to build a hospital, the foundation for Rev. K. S. Joseph Memorial Hospital was birthed. On January 23, 1973, The hospital was dedicated to the Lord and was opened to the public.
Since then the hospital has opened clinics and conducts rural health care camps throughout the area. It has truly become a blessing to many.
The hospital has specialized and gained much recognition in the area of eye surgery. The hospital conducts on a regular basis free eye camps in the rural areas. Surgeries performed for those who required it. Over the years, many well known doctors have come from all over the world and given of themselves to help many recover their site.
During a Sunday service, a group of lepers entered into the church at Amalapuram, causing a great stir among the people. People stared and were uncomfortable not knowing what to do or how treat. The lepers sat through the service and then came to the altar and accepted the Lord. They came back the following week bringing more lepers who also were saved. This happened for 3 weeks untill communion Sunday.
On that day, as was the custom, a common cup was passed. The cup came back to Pastor Ernest stained with the lepers marks. Ernest lifted the cup but hesitated to partake of it. At that very moment the Lord spoke to him saying, " this is the cup I drank from. Every sin was in that cup, every curse was in that cup, every disease was in that cup including leprosy". Something happened in Eenest's hurt and the stained cup was no longer a cursed cup, but a blessed cup. Ernest drank from it. The Lord baptized the congregation with his love that day.
From that experience was born New Life Center, a community and outreach for lepers. 50 families now live with dignity in the community and over 120 lepers are cared for in the leper care project. Much progress has been made to help them recover and join society again as normal human beings.
The Children Homes, Educational Institutes, Health Care, Adult Literacy Programs, Development works, Housing and relief projects all stand as a testimony of the Love of Jesus in deed to a poor and needy nation. Over the years many individuals and Organizations, such as Erikshjalpen of Sweden have generously supported these charitable efforts. Much has been done, Much more needs to be done, It will be done Praise the Lord!
"THAT THEY MAY BE ONE"
In the early 1980's God laid a burden on the heart of Ernest Komanapalli concerning the unity of Pentecostal, Charismatic and Full Gospel churches.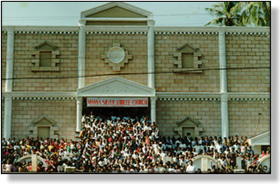 After much prayer and discussion with other leaders, the full gospel leaders fellowship of Andhra Pradesh was born.
Manna group of Ministries was one of the founding members, and Ernest Komanapalli served as its first Chairman. It was a wonderful day for unity, and this body continues to bring together leaders of all organizations in fellowship.
Manna group of Ministries is committed to unity at all levels and strives to encourage this wherever it can. To this extent, it was a founding member of the Pentecostal Fellowship of India, as well as many local Pastor's fellowships in India. Ernest Komanapalli has served as past chairman at both the local and national level.
Manna group of Ministries believes that this unity must be worldwide if the world is to be reached for Jesus Christ. In so believing, it actively supports and is part of the Pentecostal World Conference. Ernest Komanapalli presently serves on the advisory committee of the PWC.
"TILL JESUS COMES"
The work of Manna group of Ministries has touched many lives in the nation of India and throughout the world. Hundreds of thousands have been touched spiritually, physically and tangibly.
There is no secret of success or any special formula. Everything has been accomplished through unswerving commitment to the vision of proclaiming the Lordship of Jesus Christ over a dry and weary land. Added to this is the integrity of the leadership striving in every way to be obedient to the Lord's call.
God has raised Ernest Komanapalli up as a true servant of God in these last days. God has surrounded him with good men and women who have worked diligently and ministered the word of God day and night. Throughout the years, great men of God have advised him and the solid leadership team he has developed oversees the continuity of the ministry every day.
God has been faithful to provide in all circumstances. Manna group of Ministries is not directly supported by one organization, but God through his people all over the world has provided resources when needed.
The Vision continues and today the goal is to see 2,000 churches in the ministry in the next 5 years. To encourage and support church planting efforts in South East Asia, South Asia and Africa. More Bible training centers will be opened so that more servants of God may be trained and sent out into the field. To develop more multilingual programming for Radio and Television will be developed so that more people groups may be reached with the Gospel of Jesus Christ.
Though at times the vision seems overwhelming, the goal remains to win more souls and enrich more lives for Christ "Until Jesus comes".