"RECOVERY OF SIGHT TO THE BLIND"
In 1971, Ernest Komanapalli became ill with Cholera. In the town of Amalapuram medical facilities were terribly lacking so Ernest's brother-in-law, who was a doctor, was brought in to treat him. During this ordeal God spoke to Ernest that he has people who have no one to treat them. With the burden laid upon his heart to build a hospital, the foundation for the medical ministry of Manna was birthed.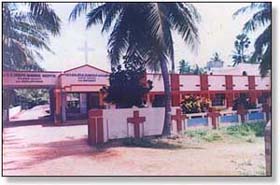 Since then Manna has opened clinics and conducts rural health care camps throughout India. It has truly become a blessing to many.
An important outreach for Manna is the ministry to Leprosy patients. Out of a defining encounter with lepers in the church, New Life Center for Leprosy Patients was born. Today 60 families live and are cared for at the center. In addition to this, in the city of Hyderabad a special weekly outreach provides hope and help to victims of this dreadful disease.